Abby's Contracting LLC. is a family owned and operated company, established in 1977 serving southeast CT. We are fully licensed (#0628858) and insured and ready to work in any environment that comes our way.
In the News
Custom Decorative Paving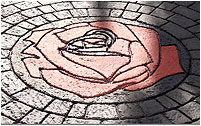 The "Stamped Asphalt Surfacing System" consists of stamping a template into freshly placed or re-heated asphalt followed by the application of a polymer modified coating. Stamped Asphalt Coatings have been developed with input from installers, polymer chemists and the manufacturer to provide a durable, slip-resistant attractive user friendly coating. For more information visit the Decorative Paving Page
Sealcoating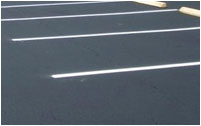 Sealcoating adds curb appeal and extends the life of your driveway or parking lot appearance. By protecting the top layer of asphalt from oxidation and wear, caused by exposure to the sun, air and the harmful effects of oil and gasoline spills. While also beautifying the pavement by providing a smooth, black, even surface ideal for painting lines and sweeping. Visit our Sealcoating page for details.
Abby's Green Paving Practices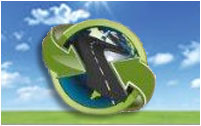 Asphalt might be one of the last places you would think of for being green, but Abby's Contracting is on the leading edge of companies looking to change that. For years roofing companies were filling landfills with nearly 11 million tons of used asphalt shingles. Companies like Abby's Contracting have been reclaiming these shingles and recycling them for the asphalt. This in turn keeps costs manageable and also is a healthy alternative for the planet, for our future and for that of our children.
New Infrared Asphalt Truck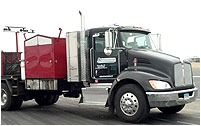 Infrared asphalt recycling is in-place reheating of asphalt by means of energy producing equipment designed to soften the bitumen without burning it which allows for reworking the pavement. We are able to do this all year around. Infrared asphalt repairs use Infrared rays that have the ability to penetrate an object. It is this that allows deep penetrating asphalt repair and reclaiming without causing damage to the material being reclaimed or to the road that is being heated. For more information visit our Infrared Asphalt Repair page.